Description
Basic Indoor Trainer
Manually controlled trainer features seven resistance levels
Easily locks into place for a steady ride
Virtually silent flywheel lets you ride without disturbing others
2.64 lb (1.2 kg) flywheel simulates the feel of riding outdoors
Sturdy design allows for a maximum sprint resistance of 700 watts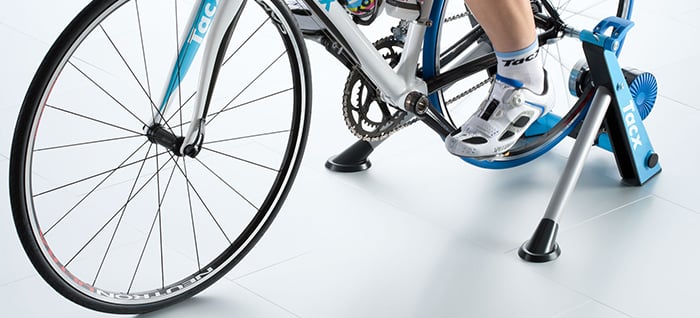 The Tacx® Blue Twist trainer takes the complications out of indoor training and provides a stable, realistic ride. It features manual resistance, so you can control the intensity of your workout while a compact flywheel generates a realistic road feel.
You're in Control
Set your desired resistance ahead of your ride with a lever on the resistance unit. With seven positions and a maximum power of 700 watts, this trainer is perfect for your daily workouts.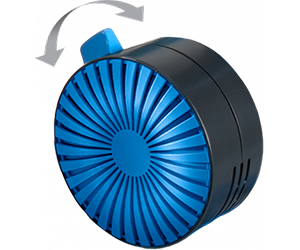 Smooth and Silent
Blue Twist features a sturdy roll core with soft plastic to absorb vibrations. This dramatically reduces noise, so you can ride without disturbing others nearby.
A Realistic Ride
The 2.64 lb (1.2 kg) flywheel is able to replicate a mass inertial effect of 17.6 lbs (8 kg), giving you the feel of riding outdoors.
Made to Last
No matter how intense your workout, this bike trainer is stable and built to last. It securely locks your bike into place with two easy clicks, so you can ride hard and know you're not going anywhere. The Blue Twist trainer also features a single roll made from a hardened steel sleeve to prevent wear.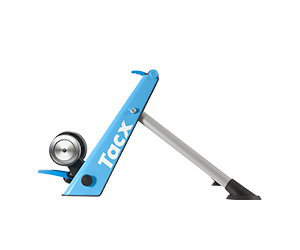 Virtual Power
With the addition of the Tacx speed and cadence sensor, you can train with popular apps — based on virtual power — such as Zwift, TrainerRoad and Tacx software. The sensor transmits your speed and cadence wirelessly to your compatible smartphone, tablet or computer.